We had a barbeque today, celebrating American independence a day late, and the requirements to attend were to:
1. Be named Sara or Sarah
2. Be American
3. Be married to a Brit
4. Be married to an American named Sara(h)
5. Be my brother
We did sing some American songs (tee hee!) and there was debate over the American revolution. I baked a cake from one of my favorite blogs
The Pioneer Woman
. It was decorated with a yummy cream cheese icing and raspberries and blueberries, and it was really easy to do!
and found sparklers in letter form, which spelled out USA. (Feel free to start up the chant: U-S-A! U-S-A!)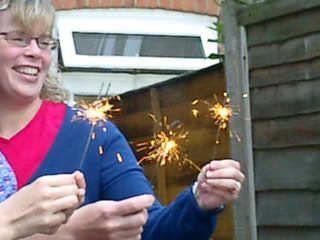 My brother did the cooking.It got a little smokey at times!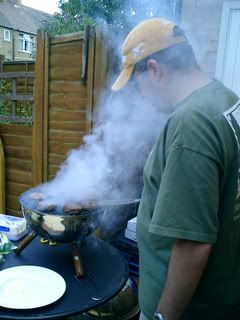 It's the last time we'll entertain at our Croydon flat, as it will soon be sold. We've agreed a price on a new house and hope to move soon! I'll keep you posted on that...