On Saturday night, we thoroughly enjoyed ourselves at
The Ugly Duckling
. I had a version of Eggs Benedict and then a delicious chicken and pine nut pasta. Hubby had all 10oz of his Herefordshire Rump Steak. Yum. We were by far the youngest people in the restaurant and at one point I looked around to note that Neil was the only man in the restaurant, besides the waiter, who was not balding.
For anyone in England over this holiday weekend, you already know that Sunday equalled rain. We managed to keep ourselves entertained by exploring all sorts of little nooks and crannies of the forest: villages like
Lydbrook
and market towns like Ross-on-Wye, without really getting out of the car.
Our brilliant idea for evening entertainment was to drive to the nearest city, Gloucester, and catch Pirates of the Caribbean 3 in a cinema. We had a hard time finding the cinema, and despite getting there an hour and a half before the movie started, all the evening performances had sold out. Doh. We tried driving around Gloucester to find a place to eat, but discovered that Gloucester was… as they say in Jolly Old England… pants. (Feel free to contradict me if you know different, but I'd say Gloucester was a pit.)
We ended up hightailing it away from the concrete jungle back to the green forest and stumbled upon this, where we ate our pub dinner and warmed our cold, wet toes. Lovely.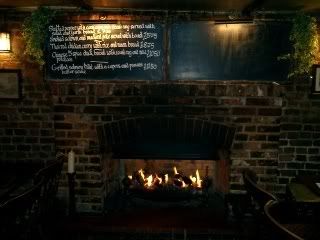 Monday worked out just right for us, weather-wise and traffic-wise. We snuck in one last wood before we had to head home: Puzzle Wood. Rocky paths lead you up, down, over and through rocks, crevices, eerie trees and huge mushrooms. It's an old iron mine and has become a labyrinth of pathways and bridges, now set up as a maze for children and child-minded adults to run around in. Apparently, JRR Tolkien spent a lot of time here; I can see why.
They also had some friendly shaggy cows.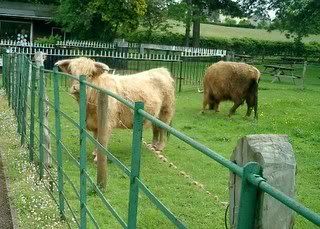 The birds! I hinted in my last post about the birds. There was a wire just outside our bedroom window, and I tried on at least four separate occasions to catch these brightly coloured and elusive birds as they perched on it, eyeing up the bird feeders below. Trouble is… my camera has no zoom and so you can barely see the birds to identify them. Sorry. Here is the best I could get.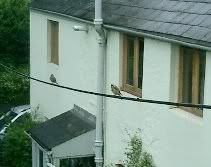 One last thing before I sadly leave behind my forest adventures: a quirk about the Forest of Dean. The sheep. Lots of countrified places in the great United Kingdom have sheep, but none quite so… liberated… as those in the Forest of Dean. Here, they are suicidal, lounging in the middle of the road (60MPH speed limit) and wandering across around a bend. I think we did pass one that had been hit. Stupid sheep!
Still, I hope someday I'll get to see those sheep again.