If you're headed to Greece, I would recommend a couple of nights in Athens to experience the choatic city atmosphere, but not much longer than that.
We stayed at the sleek, trendy
Fresh Hotel
, and loved it. The taxi drivers had a hard time finding it, despite it's central location, and if you read the cyberspace reviews you'll gather that it isn't in the best part of town. But you'll feel cool every moment you're inside.
The hotel has won various design awards, provides the all-important free business center with internet access and has a fantastic roof terrace bar/restaurant next to the small pool called the Air Lounge. It turned out to be quite a happening night spot for the wealthy locals, and you can even see the Acropolis all lit up -- beautiful. We enjoyed both lunch and dinner up there, plus several rounds of cocktails at all hours on the big comfy couches.
General observations/tips
The Acropolis -- take your own guide book, one that includes the Greek gods, or buy one before you climb up the steps. You won't get any information about what you're looking at once you're up there. In general, there is a decided lack of signage in Greece, even in the tourist destinations.
Maps -- If you have a map of the city, don't give it to my dad to read. He might walk you in the complete opposite direction you want to go, through the seediest streets, insisting all the while that the Acropolis is just in front of you.
Car rental -- Don't worry, no problem-lah! We bought a cheap single-sheet fold out map from the airport and zipped all over the south coast. Most road signs are in the Greek and Roman alphabets. We didn't drive in Athens because everything there was to see was in walking distance.
Always wear your sunscreen --
Elections -- If you happen to be in Greece on election day be prepared to get stuck in crazy traffic and cut off by random, unannounced road barriers. The city streets were one big huge party with people waving flags, blaring horns and mass-celebrating, despite only re-electing the same leader.
Restaurants -- Two recommendations for you:
As I mentioned, we had a lovely dinner in the Fresh Hotel, so that's at the top of my recommended restaurants. The food was delicious, the waiter was lovely and they gave us free booze!
My second recommendation is really not to be missed. The food is very slow, but the atmosphere is awesome. The manager of the restaurant (perhaps the owner?) is chatty and charming, but the real reason to visit this restaurant is the live music. There's a small stage which was filled by the most passionate, engaging and adorable Greek singer. He is a one man band with several harmonicas attached to his acoustic guitar and a tambourine strapped to his foot. He is awesome. He gave 100% of his energy for two hours straight, took a short break and then went back on for another set. He played tons of Greek songs as well as several Spanish ones. Yes, there was a rendition of La Bamba! I'm afraid I don't know the name of the restaurant in English, but it's located on a small Sari Street, just off the trendy "Ag. Anargyron" in the center of town. Here's a pic of the sign, and the singer. It's worth tracking down if you can...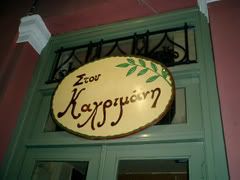 Next blog: Santorini!