We drove 469 miles this past Bank Holiday three-day weekend from London to Bakewell (200 miles) to Knutsford (35.5 miles) to Leicester (92.5 miles) and then back to London (141.1 miles) – with a few little trips in between. We were up in the
Peak District
, in the Midlands of England and it just happened to be the only three days of summer we've had in England this year.
The village of Bakewell was beautiful.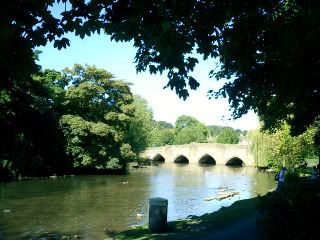 We bought a traditional Bakewell Tart from one of the local shops to give to some friends we visited on our way home. A
Bakewell Tart
is basically a marzipan themed pie with a candied cherry in the middle of a layer of icing – definitely an acquired taste that I have not yet mastered. Husband loves it, though. But then he likes
Battenburg
(the most horrid British thing I have ever encountered).
Bakewell is very near to
Chatsworth House
, used in the recent Keira Knightley version of
Pride and Prejudice
. It was Mr. Darcy's home, and ever since I watched that movie I have wanted to see the sculpture room that they featured briefly – in particular, this sculpture, which fascinates and amazes me:
The cloth looks like transparent fabric, but of course it's marble. Astonishing.
We also were very impressed with the gardens. (Even more so than the gardens at Hampton Court!) There were so many different sections to explore, including a huge water feature full of naked, muddy children splashing around, a pinetum and a kitchen garden. There was also a little surprise sculpted garden… it was just like the inside of a house: tables, chairs, etc. Here's the couch bush.
Art was scattered around the gardens, and
Sotheby's
had just set up various pieces on display, including an out-of-place, massive
sculpture of Kate Moss
in a compromising position.
There were two pieces I was really keen on. The first you might have expected me to like…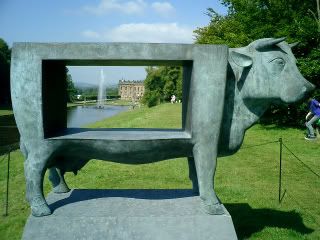 And the second I caught sight of from inside the house and was captivated.
Chatsworth House was a wonderful day out, and I'm grateful to my hubby for whisking me up to the Peak District at the last minute.
I shall save our the second day – the Peak District walks – for a separate post. You'll just have to hang out a little longer for the chainsaw carving.