In the style of a blogger that I much admire,
the Pioneer Woman
, I am going to attempt to post a recipe that I cooked last night, though I do not have as good lighting as she does.
I am not a great cook, but I do love making soup. I've been experimenting for a few months now with various recipes, and my husband suggested that this time I step it up a notch. The ham and pea soup I made last night is from the posh
The River Café Cook Book
(the blue one) and the reason I've decided to post about it is because it TOOK ME FOREVER. And I want some credit for all effort I put in.
Firstly: getting the ingredients was a tad epic. Frozen peas and any old ham just won't do for The River Café. We went to three different stores over the past two weeks to get the amount of peas still in their pods that we needed (2 kg) and the recipe asks for a 250g "hock" of prosciutto which I never managed to get. I could only find wafer thin slices, but on a last ditch attempt, I found a deli worker who would cut about half-inch thick slices for me.
Secondly: I then had to shell two kilograms of peas. This took me about an hour and a half, non-stop. Okay, this is really why I'm after some kudos. An hour and half of standing at my sink and shelling peas made me appreciate what apprentice chefs at fancy restaurants must have to do every day. Ugh. Not fun.
The rest of the cooking was easy peas-y.
For the stock, I put the prosciutto with a head of celery, half a red onion (the other half is used later), the stalks from one bunch of mint (the leaves are used later), two roughly chopped carrots and about one quarter of the pea pods into a big pot, covered with water and let them simmer for an hour and a half.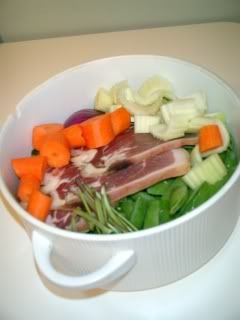 With half an hour left of the stock simmering to go, I chopped up one and a half red onions. Then I melted 50g of creamy English butter in our big wok and added two tablespoons of olive oil. The chopped onions went into the butter and I cooked them slowly to a light brown.
Once the stock was ready, I strained out all the stock and set aside the prosciutto. (I confess I couldn't bear to just chuck out all the stock ingredients so I snacked on the carrots while I finished cooking.)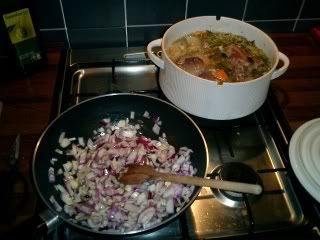 Next, all the peas and half of the bunch of mint leaves went into the wok with the onions. After stirring that for a couple of minutes, I covered the mixture with stock and let simmer for 30 minutes until the peas were soft, topping up with stock once.
While that was cooking, I peeled the fat away from the prosciutto and then blended it in my blender to a "coarse purée" with a little of the stock.
Once the peas were ready, I strained out half of the peas and onions and put them into the big (now cleaned) pot that I cooked the stock in. The other half of the peas and the juices went into my blender for "pulsing".
Lastly, I mixed in the prosciutto purée and the blended peas and stock in with the non-blended peas in the big soup pot. I chopped up the remaining mint leaves, sprinkled them in, stirred and served!
The only note I would make to anyone trying this soup out for themselves, is to blend slightly more than half of the peas to have less peas floating. I feel like my end product needs a bit more soup to it, though having a decent amount of solid peas is important.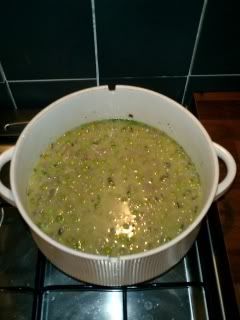 I actually served it to myself, as Neil was out. He still hasn't tried it yet, but I'm pleased with it. It says it serves six, but I'm guessing we'll be eating it all week.
Special thanks to Grandma for providing the huge soup pot, which is getting plenty of use.