Lots of fun projects have been keeping me busy.
My favorite of the lot is this one:
www.undiscoveredvoices.com
. This is the anthology contest that my friend Sara and I ran two years ago for the British Society of Children's Books Writers and Illustrators. It was hugely successful then and we're hoping this second incarnation will be, too. We had opened the submissions with a kick off event last Tuesday. The agent and editor judges plus the past winners came along to offer advice to the people submitting this year. It was great to feel the excitement in the air. And this year we have a beautiful website which explains everything if I haven't already talked your ear off about it. Yay!
My other big children's book industry project was co-hosting a
Children's Book Circle
event on the future of children's publishing. We had a panel of five speakers come to talk about digitally interactive publishing, e-books, sustainable paper publishing, print on demand and personalized printing. They were all great speakers and I learned a lot. That was also last week, on Thursday, and so I've defintiely been keeping myself busy and distracted from this Big Event that everyone is waiting for.
I've also been taking driving lessons, and have my driving test booked for April 16th. Gulp. Gulp because it's notoriously hard to pass driving tests in Britain and gulp because that's only eight days before my due date! I'm hoping the huge bump might win me some sympathy points.
Other chores: I've pre-washed all my baby clothes/cloths/blankets; I planted some garlic in pots on the patio; I've been ordering things online like mad for Baby's arrival.
Hubby's progress: He's fixed our bookcases to the wall, so I can start filling up the shelves. He's repotted our tall bamboo plants into fancy bigger pots, done some gravelling out front and also started pulling down the kitchen. This time, though, the kitchen won't stay in pieces for months. The idea is that everything he's ripped out will be put back (even better) by the end of this Easter weekend. When he pulled up the cabinets, we found a community newsletter from 1987 buried underneath -- it quite amusing as it's pretty similar to the newsletter we get now! Here's the kitchen in-progress: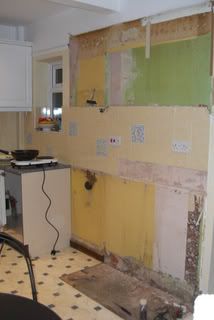 And when we're not doing big projects, we're doing this... which, if you aren't addicted like we are, is Guitar Hero.