Our first two days in the Forest of Dean have been fantastic. On Thursday evening, we arrived at our bed and breakfast after about four hours in the car and were greeted by a beautiful, welcoming garden. We are staying at
Viney Hill Guest House
, and it's delightful. We have the top room, facing front and this is our view. The amount and variety of birds in the garden below is incredible, but more about that later…
Our first dinner was uninspiring, but our Friday morning breakfast was perfect. Our B&B has a breakfast room with a large bay window, overlooking fields and a paddock. With the sun shining through and whatever you could want for cooked breakfast coming readily, it's a good way to start the day.
We know the weather is going to be temperamental this weekend, so we decided to get most of our outdoors exploring done first. Friday was our bike rental day. We spent about four hours biking around trails in the forest.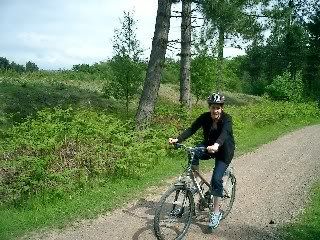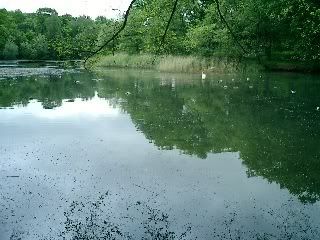 I had laid out a clear plan as to where I wanted to bike, but the map that the rental place gave us was so clear and encouraging, that we decided to do as they suggested, with only a few detours.
We found a pub with a pond outside, and sat and ate our burger\Ploughman's while watching a family of three ducks splash around. Here's the duckling… just adorable!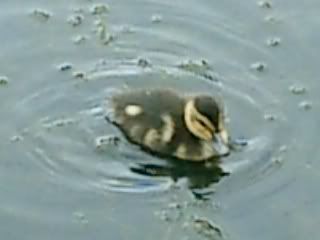 For those of you who don't know, hubby and I are currently voluntarily without a television, but we're both Neighbours addicts. So, we made special provisions in the schedule to come back to the room and watch the episode. It's been ages since I've seen it, and didn't even know what some of the new characters looked like. Much to hubby's annoyance, I wasn't so impressed with some of the new "ladies" on the program.
For our evening meal we went to a truly inspiring hotel/restaurant called
The Florence
. It's a quaint white building set just next to the river, on the border with Wales. The view from the dining room is incredible and the food was wonderful. If anyone comes out this way, you cannot miss the chance to dine at this place. (I think if we come back, I'm going to beg to stay there!) Unfortunately, I forgot my camera, but the website has a good one.
Today, we went around the
Sculpture Trail
– one of the things I was most excited about seeing. We went wandering around the forest and every so often came upon some odd/wonderful art exhibit nestled among the trees. Neil carried our big umbrella, which meant that the rain stayed away.
We found a fun little café in the town of Newnham and, though it was chilly, we sat outside in their enclosed garden and ate toasted baguettes. After that, it was on to a fantastic garden,
Westbury Court Garden
, in Westbury-on-Severn.
Tonight we're off to a fun-looking restaurant called
The Ugly Duckling
. We're both hungry, and can't wait!