The
Hind's Head
, though the less-hyped of Heston Blumenthal's two restaurants, is just as exciting and wonderful as fancy-schmancy The Fat Duck.
It is a regular English pub with a pub food menu cooked as best as pub food can be cooked. You may have heard of the triple-cooked chips (translation for the American readers: thick steak fries, fried three times) which are every bit as yum as you might think. We had made a reservation and sat upstairs, rather than downstairs by the bar, the first come, first served area.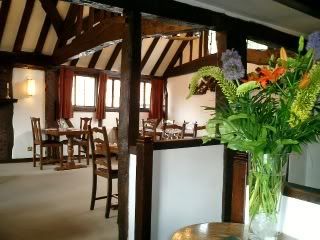 Our little table was right by an open window and we could watch all the people walk right by The Fat Duck. The picture in yesterday's entry of the street was actually our view from the table. Once, we watched a taxi driver point out the restaurant to a group who still missed the door. Lots and lots of uber-posh cars were baffled by the lack of signs or obvious parking: an Aston Martin, lots of Porsche and silly SUVs. There was also a wedding happening nearby, and we saw the most amazing hats!
On top of the wonderful atmosphere and prime people watching, I had the most delicious pea and ham soup, light and sweet with chunks of slightly salty, soft meat. I'm going to try to recreate it somehow here at home. Neil loved his oxtail and kidney pie (translation for the American readers: gross and ick) and wondered aloud if this food was even better than the Fat Duck meal. For dessert, we had "Eton mess" which, as an American, I needed a translation for. It is strawberries and cream made into a mess with chunks of meringue mixed in, and it was heavenly.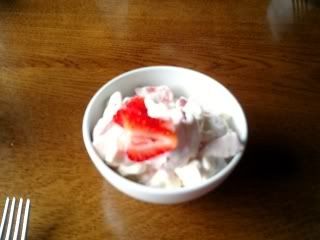 If someone asked which of the two restaurants I would pick to recommend, I would struggle to decide. But I wouldn't struggle on recommending the place we stayed. It was
Red Roofs at Oldfield
.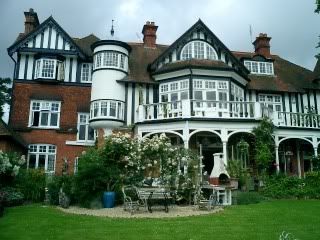 It's a 25 room Victorian house right on the river with a beautiful garden and a lovely breakfast room. Each bedroom is decorated in a different style, and we stayed in the Gold Room. Everything was gold. Everything.
This was our view: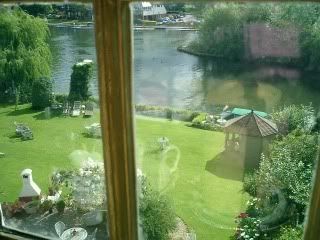 The most impressive room was the lobby.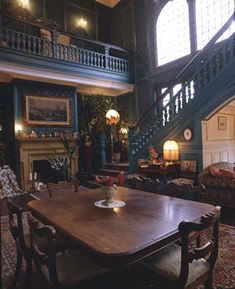 The husband and wife team owners were friendly and welcoming, and have done a wonderful job restoring and maintaining the building. It was the perfect place to stay to compliment our gastronomic experiences.
I think I'll save the Windsor visit for tomorrow's entry. That will keep me constant on my posting!