On top of all our eating, we managed to squeeze in a trip to
Windsor Castle
on Saturday. It was only about ten minutes drive away from where we were and, conveniently, on the way home. Windsor Castle is, according to the audio guide, the oldest lived-in castle as Her Royal Highness Queen Elizabeth II lives there most weekends. It's huge-mungous and rather beautiful.
In the next picture, you can just see the Union Jack, the flag of Great Britain, peeking over the top of the tower. For those not in the know, this means that the Queen is not in residence.
When the Queen is actually there, her own
Royal Standard
is flown. So, imagine our delight when we witnessed a new flag being run up the mast. The Queen had arrived just in time to greet us personally. How lovely!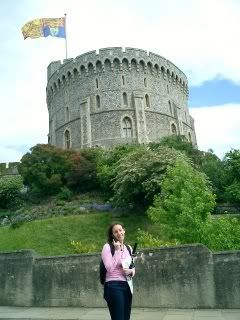 Unfortunately, we didn't see her or even her car. One of the chatty wardens told us that her entrance is well away from the tourist queues. No entry fee for her! By the way, I'm not on the phone in that picture. That is the audio guide pressed to my ear.
It was the day before a special service for the Order of the Garter, so St. George's Chapel was closed. And, as it's the summer, the Queen's State Apartments were closed as well. However, we were able to wander around the grounds and gawk at the amazing
Queen Mary's doll house.
While we were waiting in line, Neil and I had a discussing about the sign that read: "Queen Mary's Doll's House". As you all know, this implies that there is only one doll to whom the house belongs, but the number of rooms (man servants, maids, nurseries, Queen's rooms, King's rooms…) implies that there are many dolls. If you've clicked on the link above, you see that the website uses "dolls' house" which implies the suspected many dolls. I prefer to use "Queen Mary's doll house" as there aren't actually any dolls in it at all, and it's really Queen Mary's house made for dolls. That is: the house belongs to Queen Mary, rather than the dolls. Fascinating discussion, I'm sure. The security guard was looking bemused, but it seemed important at the time.
We weren't allowed to take pictures inside the dimly lit room where the doll house is kept, but it was quite a spectacle. There was so much to look at. Highlights include: the library stocked with readable books, the miniature cars in the basement, and the tiny replica Crown Jewels behind vault-like bars.
At the end of the visit, we learned that we could fill in a form, get it stamped and then get free access to Windsor for one full year. In a few months, we'll try to go back and see the things we missed, and say hello to our old friend, the Queen.